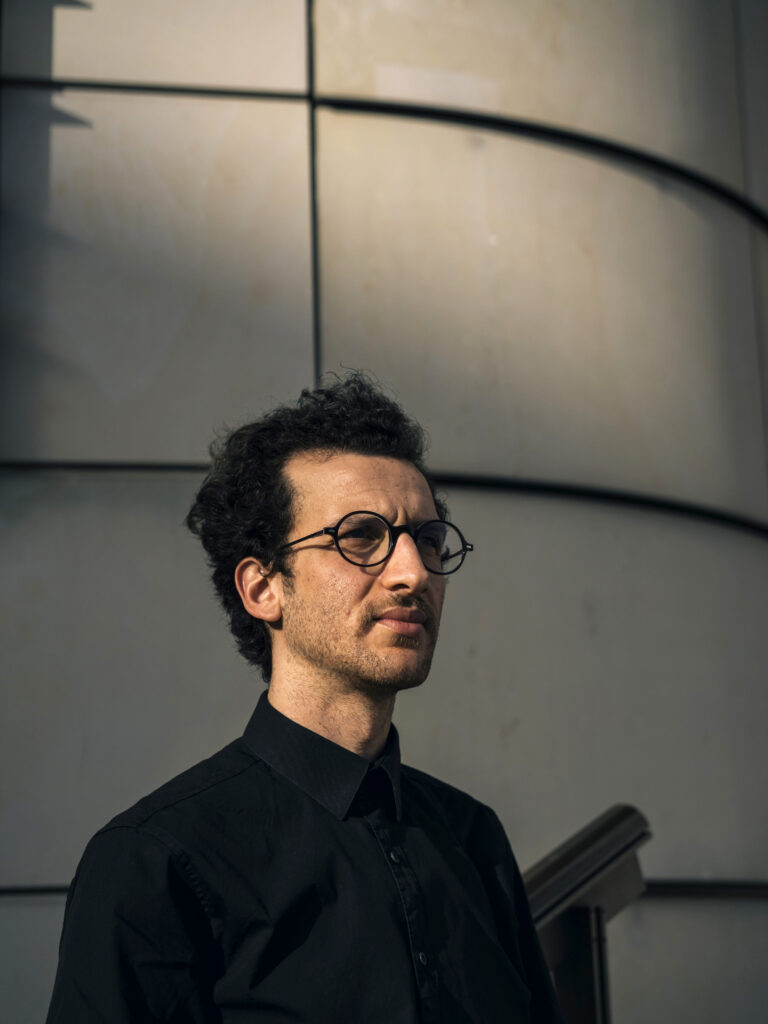 Die Musik ist die Sphäre, in der ich mein Selbst und
meine Wahrheit verteidige
abwab.eu
——————————–
With stomping feet, swinging hips, a drumbeat, and lots of laughter, two Syrian migrants lead a group of Germans and others in traditional Arab dance at a Berlin studio to share part of their culture with the country that took them in
Dailymail.co.uk
Thewashingtonpost.com
montrealgazzette.com
Apnews.com
Foxnews.com
aawsat.com
syrianobserver.com
taiwannews.com.tw
Thechinapost.nownews.com
——————————
Ali Hasan
Musician Artist based in Berlin-Germany
Since moving to Berlin in 2015, Ali has worked, performed, and practiced with many international music and movement artists These include the Grandmaster Shi Yan Lin from China, the choreographer, dancer, and director Sasha Waltz from Germany, the Master Mohammad Riza Mortazwi from Iran, the Lebanese composer Ziad Rahbani, the Grammy-nominated internationally renowned pianist, producer, and composer Joel Holmes from the USA, The Ukrainian Handpan master Zhynea Topov, the American academic author, and music critic Professor Josh Kun, the Syrian composer Nabil Arbin, the Musician and producer Simon Schmidt aka Blindsmyth from Germany, GOTOPO from Venezuela, the Indian-German drummer and composer Ketan Bathi, The Pianist and Composer Clemens Rynkowski from Germany, The Santur Player Hakan Tuğrul from Turkey and with Cymin Samawatie, Samar Habibi, Davide Camplani, Andrew Dickinson, Ana Schwedhelm, caner taker, Studio labour, Rafaat Alzakout, and many others.
A graduate of the technical institute of medicine at Tishreen University in Syria with a diploma in Physiological Rehabilitation "Physical Therapy" besides the inspiration to explore the sounds of percussion music instruments during his walking adventure to Europe in early 2015 seeking for a new life, his passion for music and dance supported him. This combination of elements has given him a deep playground to explore contemporary art within the harmony of movement, body, and tunes, the action, and reaction between dance and music, and science with emotion.
studying and practicing the interaction between mind-body-spirit, and between Silence-Sounds. This is an essential part of his work
With the Covid-19 pandemic ensuing, Ali shifted focus and utilized these elements to hold spaces, create healing drum circles, and create safe group musical gatherings.
His first Darbouka drum was given to him when he was a young boy, and when he turned 12, Ali joined his first dance group in Damascus, where they performed throughout Syria. Under the supervision of an Academic Specialist musician Mohammed Shehade in Syria-Masyaf, he joined the "Groove" institute for tempo and percussion in 2012.
Before arriving in Berlin, he performed and played with many international musicians in the streets of Istanbul, where he gained practical music knowledge.
Since 2016 he has been working with the company Sasha Waltz & Guests. In 2018-2019 Ali was a scholarship holder of the support program "weltoffenes Berlin / Artist at Risk" of the Berlin Senate and the Allianz Cultural Foundation.
With the support of "Durchstarten 2020" das Förderprogramm für neue Expert*innen der Kulturellen Bildung in Berlin, together with the dancer and choreographer Medhat Aldabaal.
Ali is the co-founder of "Baynatna" The Arabic Library which has been awarded by "The power of art 2020" and "Aktiv für Demokratie und Toleranz 2020" Prices together with Fann Magazin & WIR MACHEN DAS, he is also a curator, and music consultant for the Resident Music Collective in Humboldt Forum in Berliner Schloss.
In 2021 Ali is a member of an international jury for the Artists in Residency Program: Fixing what's Broken by the Academy in Exile.



WATCH THIS :

Ceremony for the Opening of the Ethnologisches Museum and the Museum für Asiatische Kunst, Music by: Resident Music Collective in Humboldt Forum