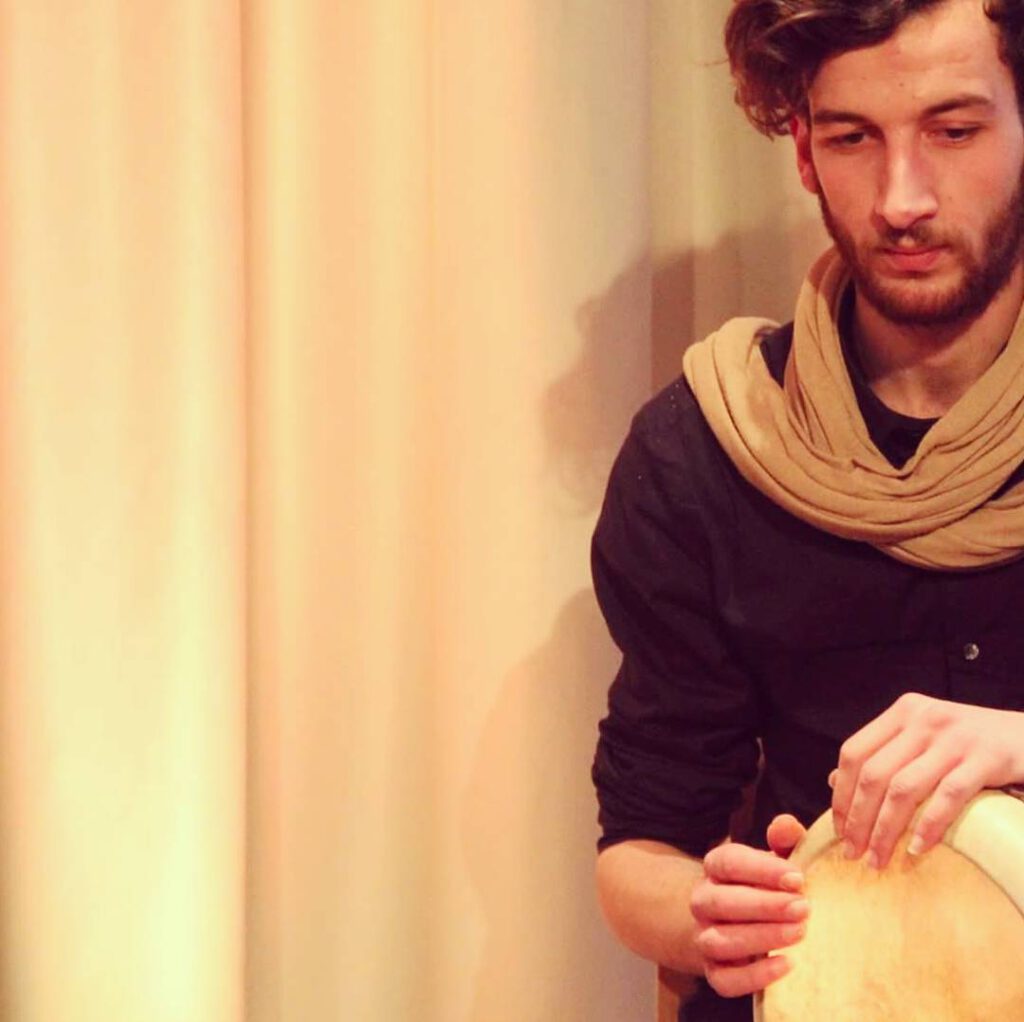 Die Musik ist die Sphäre, in der ich mein Selbst und
meine Wahrheit verteidige
abwab.eu
——————————–
With stomping feet, swinging hips, a drumbeat, and lots of laughter, two Syrian migrants lead a group of Germans and others in traditional Arab dance at a Berlin studio to share part of their culture with the country that took them in
Dailymail.co.uk
Thewashingtonpost.com
montrealgazzette.com
Apnews.com
Foxnews.com
aawsat.com
syrianobserver.com
taiwannews.com.tw
Thechinapost.nownews.com
——————————
Ali Hasan
Musician Artist based in Berlin-Germany

Since moving to Berlin in 2015, Ali worked, performed, and practiced with many international music and movement artists including the Grandmaster Shi Yan Lin, the choreographer, dancer, and director Sasha Waltz, the Master Mohammad Riza Mortazwi, the composer Ziad Rahbani, the Grammy-nominated internationally renowned pianist, producer, and composer Joel Holmes, The Handpan master Zhynea Topov, and with Josh Kun, Simon Schmidt aka Blindsmyth, GOTOPO, Ketan Bathi, Clemens Rynkowski, Cymin Samawatie, Davide Camplani, Blenard azizaj, Joolz Gale, caner teker, Studio labour, Rafaat Alzakout, Marie-Sophie Kiepe, Ralf Schmerberg, and many others.
Responsible musician percussionist, Curator, Dj, and self-learner proficient in Music, dance performances, and education. Passionate and motivated, with a drive for excellence. 6+ years experience in Berlin's creative music scene.
Experience
Percussionist.
Curator, Event Organizer.
Music Advisor for the (Resident Music Collective ) in Humboldt Forum in Berlin Schloss. Berlin-Germany 2020-Present 
Curator. 
Musician at Dabke Community Dancing workshops by Sashawaltz & Guests. Berlin-Germany — 2016-Present 
workshop facilitator, Dj.
Mindful drumming teacher for groups and individuals. Berlin-Germany  — 2018-Present. 
workshop facilitator.
Curator, organizer, and producer. 
Handpan Student in Berlin Handpan Academy 2018 – 2019
MUSIQANA Band, Berlin-Germany 2017-2019.
Percussionist.
MATAR band, Berlin-Germany 2015-2020.
Percussionist.
Music Student at "Groove" private institute for tempo and percussion Masyaf-Syria 2012 – 2014.
SAAD SAAD school traditional Dabke dance group Damascus-Syria 2004-2007.



WATCH THIS :