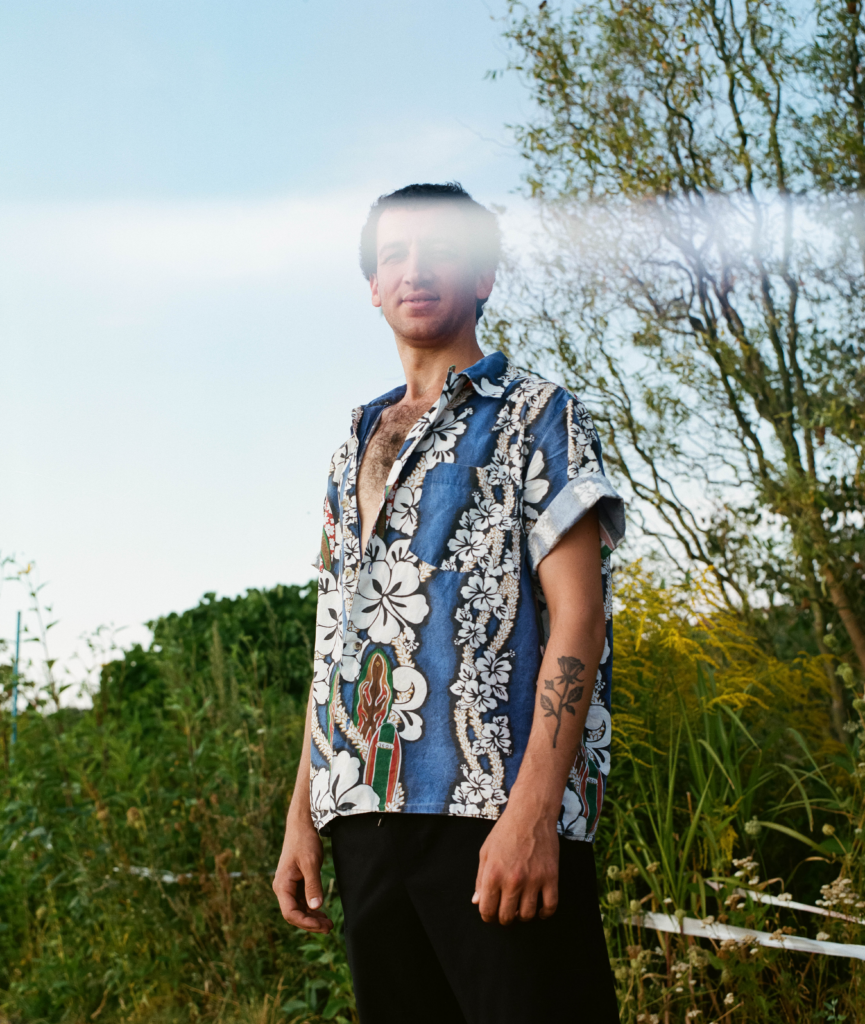 "Die Musik ist die Sphäre, in der ich mein Selbst und
meine Wahrheit verteidige"
"الموسيقا هي مساحة دفاعي عن ذاتي وحقيقتي"
abwab.eu
——————————–
"With stomping feet, swinging hips, a drumbeat, and lots of laughter, two Syrian migrants lead a group of Germans and others in traditional Arab dance at a Berlin studio to share part of their culture with the country that took them in"
Dailymail.co.uk
Thewashingtonpost.com
montrealgazzette.com
Apnews.com
Foxnews.com
aawsat.com
syrianobserver.com
taiwannews.com.tw
Thechinapost.nownews.com
——————————
Introduction :
Ali Hasan is a talented musician and artist based in Berlin-Germany. For over seven years, he has been making waves in the city's creative scene, collaborating with renowned musicians and dancers.
Collaborations :
Since his arrival in Berlin in 2015, Ali has collaborated with some of the most renowned names in music and dance. He's worked and practiced with the visionary choreographer Sasha Waltz, Grandmaster Shi Yan Lin and with Master Mohammad Riza Mortazwi.

Also, performed with Ziad Rahbani, Joel Holmes, Zhynea Topov, Clemens Rynkowski, caner taker, Studio labour, Ralf Schmerberg, among many others.

He has curated and participated in numerous events throughout Berlin, working alongside institutions such as Humboldt Forum, Radial System, HaU Theatre, MaHalla, Berlin Mondiale, ZLB Berlin, The Rotes Rathaus, Berliner Philharmonie, Literaturhaus Berlin, Allianz Kulturstiftung, LCB Berlin, Sophiensæle, Kater Blau, Sisyphos, Acud macht neu, and several more.
Contributions :
Apart from his collaborations, Ali has actively contributed to Berlin's cultural landscape. Specifically, he co-founded BAYNATNA, an Arabic library and art space located in the Central and Regional Library.
Here, he curates and organizes events that promote cultural exchange and bring diverse artists and audiences together. In addition, he is a music advisor for the Resident Music Collective at Humboldt Forum and a musician at Dabke Community Dancing workshops by Sasha Waltz & Guests.
Further, Ali was a member of the international jury at the Academy in Exile and Allianz Kulturstiftung-funded program "Fixing What's Broken." in the year 2021-2022.

Music :
As a young child, Ali's world was filled with the enchanting sounds of a clay darbouka.
He spent countless hours each day, lost in exploration, as he sought to understand the subtle nuances of each tone. His unwavering dedication to this craft serves as a powerful reminder of the transformative power of curiosity and self-discovery.
Despite facing challenges in his journey, Ali's passion for drumming never waned. He found solace in the streets of Istanbul, where he honed his skills and shared his love for music with others.

Today, Ali's deep understanding and reverence for drumming is evident in his work as a mindful drumming teacher in Berlin. Through his workshops, he inspires individuals and groups to tap into their own innate curiosity and creativity. His approach is rooted in empathy, recognizing that each person's journey is unique and that the key to success lies in following one's own interests and passions.

He also founded "We Belong to Music," a platform that fosters musical collaboration, art exhibitions, and exchange. Furthermore, his percussion skills are showcased in bands like MUSIQANA and MATAR. Ali is a former student of the Berlin Handpan Academy and the Groove private institute for tempo and percussion in Syria.

Following his recent official membership as a percussionist with Pulsar collective in Berlin, Ali is now collaborating on a new music EP with the collective.
Educational and Physical Pursuits :
Besides his artistic pursuits, Ali has a diverse range of interests. He holds a diploma in Physical Therapy from Tishreen University in Syria. Moreover, he practices Qi Gong, Tai Chi, and Kung Fu regularly, and he is an advocate for the benefits of these practices on physical and mental well-being.
His teenage years in Damascus were spent with the Saad Saad school's traditional Dabke dance group where he performed throughout Syria.
Conclusion:
Whether on stage or behind the scenes, Ali's passion for music and art is palpable. His contributions have made him one of the most dynamic and exciting artists in Berlin today.
Ultimately, his creative force and commitment to excellence have made him a rising star in the city's arts scene.
If you're ready to discover more about Ali's previous and upcoming projects, productions, and concerts, click here to embark on an exciting journey!


WATCH THIS :