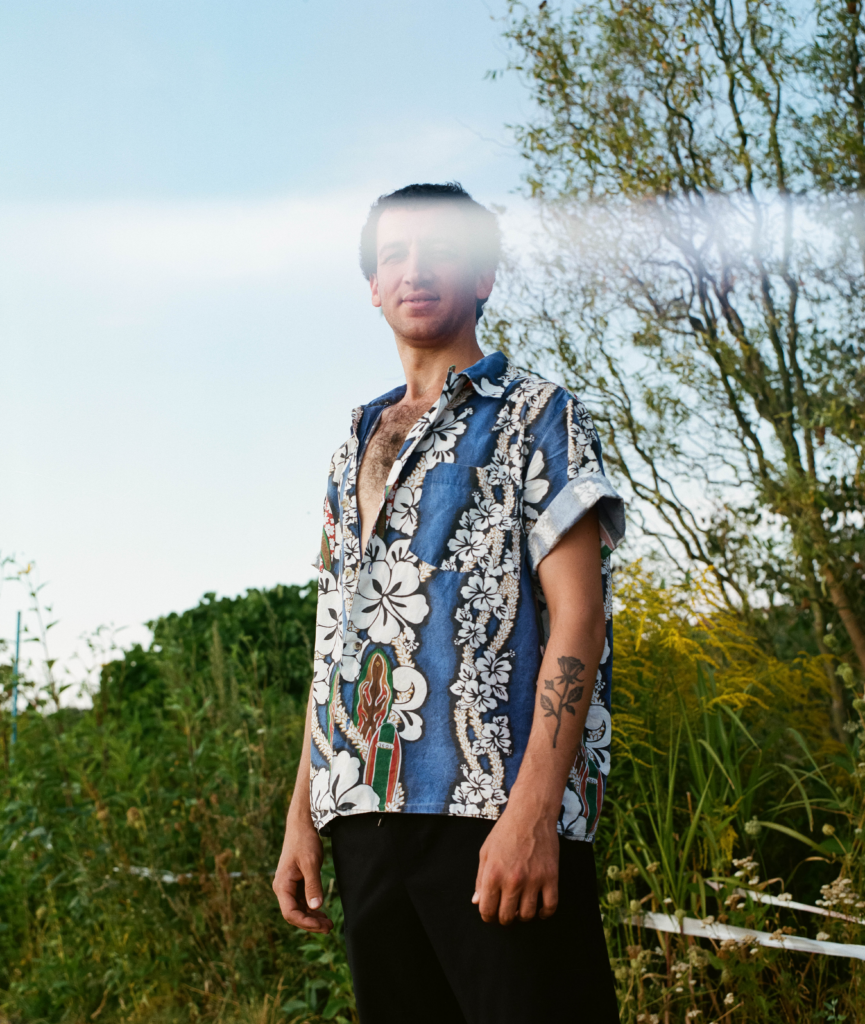 "Die Musik ist die Sphäre, in der ich mein Selbst und
meine Wahrheit verteidige"
"الموسيقا هي مساحة دفاعي عن ذاتي وحقيقتي"
abwab.eu
——————————–
"With stomping feet, swinging hips, a drumbeat, and lots of laughter, two Syrian migrants lead a group of Germans and others in traditional Arab dance at a Berlin studio to share part of their culture with the country that took them in"
Dailymail.co.uk Thewashingtonpost.com montrealgazzette.com Apnews.com Foxnews.com aawsat.com syrianobserver.com taiwannews.com.tw Thechinapost.nownews.com
——————————
---
Meet Ali Hasan: A Creative Musician
Starting the Journey
Ali Hasan isn't your average musician and artist; he's a true creative genius. For over seven incredible years, he's been shaking up Berlin's diverse arts scene.
Making Magic with Berlin's Best
Creative Collaborations
Since he landed in Berlin in 2015, Ali has teamed up with some big names in music and dance. He has been supported by choreographer Sasha Waltz, practiced with Grandmaster Shi Yan Lin, and grooved with Master Mohammad Riza Mortazwi.

Also, performed with Ziad Rahbani, Joel Holmes, Zhynea Topov, Clemens Rynkowski, caner taker, Studio labour, Ralf Schmerberg, among many others.

He has curated and participated in numerous events throughout Berlin, working alongside institutions such as Humboldt Forum, Radial System, HaU Theatre, MaHalla, Berlin Mondiale, ZLB Berlin, The Rotes Rathaus, Berliner Philharmonie, Literaturhaus Berlin, Allianz Kulturstiftung, LCB Berlin, Sophiensæle, Kater Blau, Sisyphos, Acud macht neu, and several more.
Adding His Brushstrokes to Berlin's Canvas
Contributions to Culture
Ali doesn't just create; he also gives back. He co-founded BAYNATNA, an Arabic library and art space. It started at the Central and Regional Library and now rocks Campus Dammweg with BERLIN MONDIALE's help.
From a Clay Drum to Center Stage
The Beat of His Life
Ali's journey started with a humble clay Darbouka, a traditional percussion instrument. He spent hours getting lost in its hypnotic rhythms, showing how curiosity can take you places.
Teaching, Healing, and Spreading Music.
Beyond the Arts
Ali isn't just about music; he's got a Physical Therapy diploma from Tishreen University in Syria. He's also a Qi Gong, Tai Chi, and Kung Fu enthusiast, preaching their benefits for body and mind. Additionally, he's a skilled drum circle facilitator for indenvuals, adults and kids.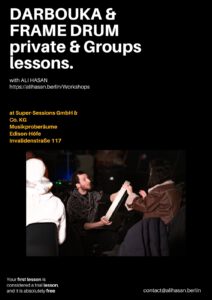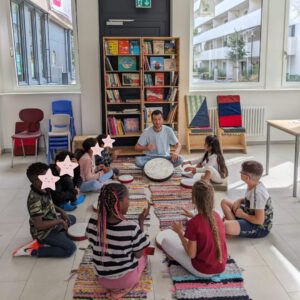 Ali's Unique Sound in Berlin's Melting Pot
Traditional Meets Modern
Ali blends old-school traditions with cutting-edge style in his music. It's a sound that's not just captivating but also one-of-a-kind.
Berlin's Innovator
Artistic Fusion
In Berlin's bustling arts scene, Ali Hasan shines as an innovator who knows how to mix the old with the new.
Watch This: A Musical Adventure with RMC in Humboldt Forum
Experience the Magic
It's a video of a special performance during the opening of the Ethnologisches Museum and the Museum für Asiatische Kunst, featuring Ali's beats and a speech by Bundespräsident-Deutschland Frank-Walter Steinmeier.


Check out Upcoming Events Here